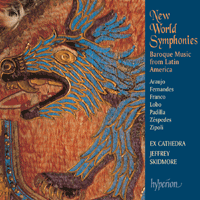 NEW WORLD SYMPHONIES:
Baroque Music From Latin America
Ex Cathedra Choir & Baroque Ensemble
Jeffrey Skidmore
Hyperion CDA67380
69'38
Buy CD (£10+p&p): Add to Basket | View Basket
Download via Hyperion Records
View CD sleeve notes

Take a voyage of discovery into the hidden treasures of 17th century Latin America where European, African and South American cultures combined to create a colourful fusion of musical styles; from the brilliant villancicos of Araujo to Zipoli's uninhibited and exuberant Missa San Ignacio.
This is a sumptuous feast of Latin American choral music from the Baroque era. Following the discovery of the Americas, Christianity and the Roman Catholic Church were established with incredible momentum. Many of the Native Indians were part of highly sophisticated civilizations, most notably the Aztecs and the Incas, and were very responsive to the new ideas, especially music, which was already an important social and spiritual element in their lives.A staggering amount of music was subsequently created which, surprisingly remains little explored in today's global age.
This disc showcases some of the treasures from this important era in history, and includes works sung in Quechua (the language of the Incas) and Nahuatl (the language of the Aztecs). Works such as Padilla's remarkable Missa Ego flos campi have elements of flowing polyphony from Old Spain combined with lively, often syncopated, short phrases reflecting New Spain. The instrumentation on this disc is also mesmerizing – recorders, chirimias, cornetts, sackbuts, bajóns…
Track listing:
| | |
| --- | --- |
| 1. Hanaq pachap kusikuynin – Anonymous (Ritual, Lima 1631) | Play Sample |
| 2. Missa Ego flos campi: Kyrie – Juan Guttiérrez de Padilla (1590-1664) | Play Sample |
| 3. Missa Ego flos campi: Gloria – Padilla | Play Sample |
| 4. Xicochi conetzintle – Gaspar Fernandes (1570-1629) | Play Sample |
| 5. Missa Ego flos campi: Credo – Padilla | Play Sample |
| 6. Los coflades de la estleya – Juan de Araujo (1648-1712) | Play Sample |
| 7. Missa Ego flos campi: Sanctus – Padilla | Play Sample |
| 8. Versa est in luctum – Alonso Lobo (c1555–1617) | Play Sample |
| 9. Missa Ego flos campi: Agnus Dei – Padilla | Play Sample |
| 10. Salve Regina – Hernando Franco (1532–1585) | Play Sample |
| 11. Qhapaq eterno Dios – Anonymous (Symbolo Catholico Indiano, 1598) | Play Sample |
| 12. Ut queant laxis – Araujo | Play Sample |
| 13. Missa San Ignacio: Kyrie – Domenico Zipoli (1668–1726) | Play Sample |
| 14. Missa San Ignacio: Gloria – Zipoli | Play Sample |
| 15. Convidando esta la noche – Juan García de Zéspedes (1619–1678) | Play Sample |
REVIEWS for New World Symphonies:
'This is one of the most eye-opening CDs – or should I say ear-opening – that I have heard this year. What a magical concoction of sounds – and what brilliant playing!' (Classic FM, CD of the week)
'Ex Cathedra has unearthed some magnificent music here; there are plenty of fascinating discoveries performed with great feeling and panache, and with potent seasong from the period instruments. The disc has the makings of a bestseller, and certainly deserves to be' (The Telegraph, CD of the Week)
'… choral music of the most vibrant quality imaginable, performed by Ex Cathedra with equally vigorous zeal…unmissable' (The Birmingham Post)
'Terrific music, terrific singing.' (The Times)