Singing Playgrounds is an established, award-winning whole-school singing programme in which we train children to lead others in singing play.
"This has been a transformational project." Jackie Gazeley, Headteacher, Birmingham
New Projects for 2021!
We have two very special Singing Playgrounds projects launching on Monday 16th November
Start your journey is for any primary school anywhere, even if you have previously participated in Singing Playgrounds, and Singing Playgrounds The Birmingham Programme (free to all Birmingham primary schools) will get your children creating their own new songs and singing games in their own languages and inspired by Library of Birmingham's great Shakespeare collection.
For Birmingham Schools: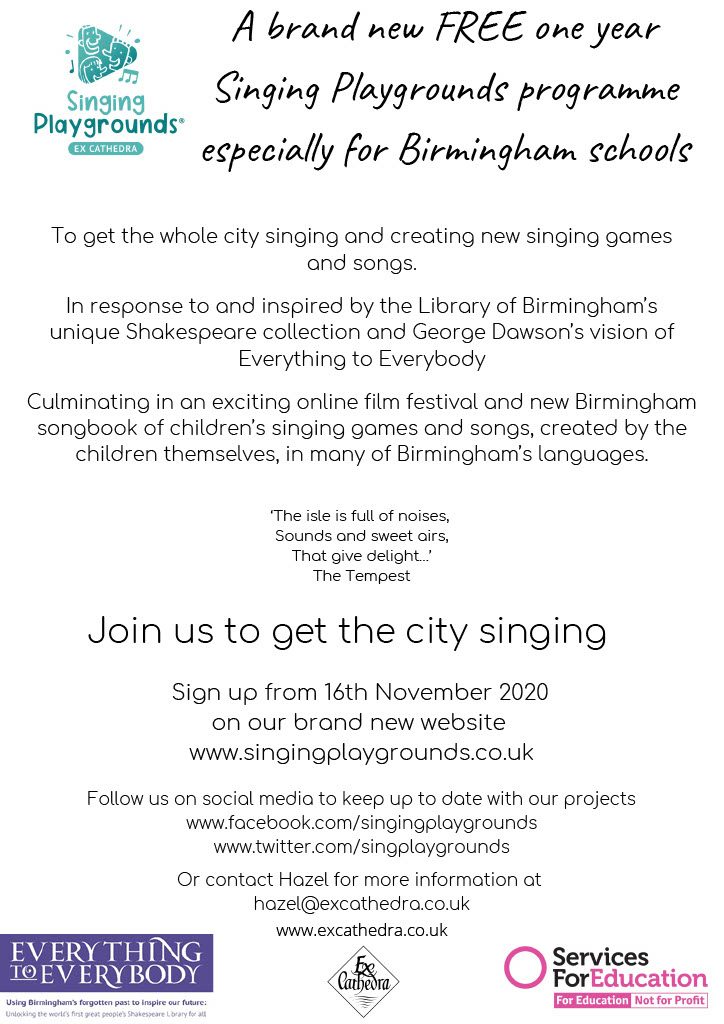 For all other schools and hubs:
For more information on signing up to one of our Singing Playgrounds projects, please contact Hazel Tyrrell: 0121 616 3412, schoolsinging@excathedra.co.uk
What they say
"The Singing Playgrounds Programme has been a bit of a revelation for me as a tone-deaf, non-musical Head Teacher. It really has opened my eyes to the value and contribution music can play to the all-round development of a child. The list of positives from this project cannot be underestimated and cover many of the elements of the Every Child Matters agenda." (Richard Lee, Head teacher at Barford Primary School, Birmingham)
"In 21 years it was the most inspiring singing event that I have attended and it was a very stimulating experience for all the children." (Karen Kennedy, Head teacher, Birmingham)
"Singing Playgrounds is brilliant. I wish I could wave a wand and have it magically appear in every primary school in the country now." (Howard Goodall CBE, National Singing Ambassador, 2007-11)
"It's as though you are sprinkling gold dust across the country" (Margaret Griffiths, Sing Up Evaluator and ex HM Inspector for Music)
Singing Playgrounds won of Best Musical Initiative, Music Teacher magazine, 2014, and was listed as one of the top choral initiatives in the world by Koor & Stem, 2013.