Ex Cathedra Consort
Jeffrey Skidmore conductor
These popular concerts are aimed at the heart of Christmas. Much-loved favourites, little-known gems and stunning new works are accompanied by a selection of readings, which together capture the meaning – and humour – of the season.
"Christmas Music by Candlelight is to be transported to another place, timeless, almost unbearably beautiful, intense and joyously uplifting! Christmas begins here" (Audience member)
Early booking is advised to avoid disappointment.
This concert will end at approximately 10pm.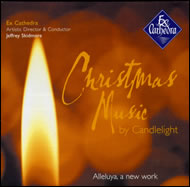 Listen to excerpts and buy copies of our Christmas CDs: Christmas Music by Candlelight and Joy in the morning
---
You can book:
1) online via the link above or call the THSH box office on 0121 780 3333 (Ex Cathedra is a resident ensemble at Town Hall & Symphony Hall)
  £30 / £22 / £13 including per ticket commission from THSH box office
2) online via The Courtyard or call The Courtyard box office on 01432 340 555
  £28.50 / £20.50 / £11.50 plus £1.50 booking fee from the Courtyard, Hereford
3) in person at Hereford Cathedral Shop
Other discounts are available via the THSH and Courtyard box offices, including:
designated wheelchair and companion tickets
groups of 11+
£8 – aged 18-30, not in full-time education
£5 – under 18s and students in full-time education
Buy more & save more
Book for 3 or more different concerts through the THSH Box Office and save up to 30%. THSH's 'per ticket commission' will also be waived, worth up to £3 per ticket. There is a Ticket Exchange Scheme should your plans change. Read more…
Alternatively, book both our Christmas Music by Candlelight and Summer Music by Candlelight (Thu 6 Jun 2019) concerts at Hereford Cathedral at the same time via The Courtyard box office and save 10%.