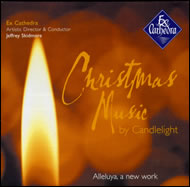 Christmas Music By Candlelight:
Alleluya, A New Work
Ex Cathedra
Jeffrey Skidmore
EXCCD003
73'37
Buy CD (£10+p&p): Add to Basket | View Basket

Many Ex Cathedra fans will have experienced the very special atmosphere at our Christmas Music by Candlelight concerts, which have been at the heart of the choir's year for almost 40 years. Like the concerts themselves, Christmas Music by Candlelight – Alleluya, a new work, provides an evocative mix of Christmas repertoire, moving from traditional favourites to rare, foreign and contemporary. Jeffrey Skidmore describes the CD as 'challenging and demanding and, we hope, uplifting and refreshing.'
Buy Digital Download:
All tracks are supplied in high quality m4a format, the same format and bitrate as you will find on iTunes, and can be played back using a variety of media players, such as iTunes, VLC or Windows Media Player. The preview samples are in a lower quality, mp3 format and do not represent the fidelity of the purchased tracks.
Download full album: £10.00
| | |
| --- | --- |
| Ex Cathedra – Christmas Music by Candlelight (17 tracks) | |
Download single tracks: £0.79 EACH
| | | |
| --- | --- | --- |
| 1. O, do not move – John Tavener | Play Sample | |
| 2. In the bleak midwinter – Gustav Holst | Play Sample | |
| 3. O magnum mysterium – Morten Lauridsen | Play Sample | |
| 4. Alleluya, a new work is come on hand – Peter Wishart | Play Sample | |
| 5. O Adonai – Roderick Williams | Play Sample | |
| 6. Twelfth Night – Samuel Barber | Play Sample | |
| 7. Christmas at sea – Philip Sheppard | Play Sample | |
| 8. Tece voda, tece – Trad. Czech | Play Sample | |
| 9. O Clavis David – Daryl Runswick | Play Sample | |
| 10. Hanacpachap cussicuinin – Ritual 1631 | Play Sample | |
| 11. Every star shall sing a carol – Sydney Carter | Play Sample | |
| 12. Bethlehem Down – Peter Warlock | Play Sample | |
| 13. Hymne à la Vierge – Pierre Villette | Play Sample | |
| 14. Sans Day Carol – John Gould | Play Sample | |
| 15. O Emmanuel – Fyfe Hutchins | Play Sample | |
| 16. A Boy was born – Benjamin Britten | Play Sample | |
| 17. How shall I fitly meet Thee – J.S Bach | Play Sample | |
REVIEWS for Christmas Music by Candlelight:
'Excellent! … An eclectic mixture that this wonderful choir has evolved … A breath of fresh air in a market dominated by the tried, the tested and the often rather stale… Ex Cathedra is a fantastic choir who know who they are and sing with pride and polish and flair.' (BBC Radio 3 CD Review)
If you only buy one CD of Christmas music this year, make sure it's this one. (Musicweb International)