EX CATHEDRA Consort & Baroque Orchestra
Jeffrey Skidmore conductor
Simon Robson narrator
Purcell's semi-opera imagines war between a Mexican Indian Queen and an Inca King, a tale of tangled loyalties, unexpected identity and seemingly hopeless love. Expect exquisite instrumental music, stunning recitatives and vivid characters – Fame, Envy, a Conjurer to name a few – as things start to unravel for the Indian Queen…
The scene is set for The Indian Queen with evocative Latin American Baroque music unearthed by Jeffrey Skidmore during his visits to Mexico and Bolivia.
We're delighted to return to the London Festival of Baroque Music, with its theme for 2019 'Crossing the Border' exploring travel and discovery.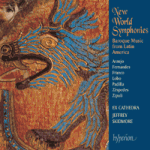 Listen to excerpts and buy our CDs of music from the Latin American Baroque: New World Symphonies, Moon, Sun & All Things and Fire Burning in Snow.
---
"vivid and dramatic… vibrant, exciting playing" – read the full review from our Birmingham performance at www.seenandheard-international.com
---
£32, £24, £18, £12, YF
Book online via the link above, or call the SJSS box office on 0207 222 1061
Transaction fees apply: £2.75 (telephone) £1.75 (online)
On Saturday 18 May we are running a Come & Sing Latin American Baroque workshop. Participants are entitled to a 10% discount (within the same transaction) to the concert on Friday 17 May.