Ex Cathedra Consort
Jeffrey Skidmore conductor
Frances Kelly harp
James Johnstone organ
Simone Rebello percussion
"For fire burning in snow is the effect of love" – the final line of Juan de Araujo's Dime, amor gives this programme its title and conjures up the passion and dramatic contrasts which make it such a delight.
The polyphonic music of the European Renaissance combines with joyous Latin American rhythms, and the indigenous imagery of the Incas meets the language of the Catholic church. This is particularly evident in the music of Araujo, who was born in Spain and emigrated to South America at a young age, becoming maestro di capello at the cathedrals of Lima, Cuzco and Sucre.
We are delighted to return to St Mary's in Warwick and Leamington Music to perform this exuberant music from the Latin American Baroque.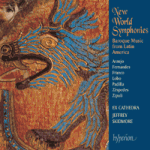 Listen to excerpts and buy our CDs of music from the Latin American Baroque: New World Symphonies, Moon, Sun & All Things and Fire Burning in Snow.