EX CATHEDRA
Jeffrey Skidmore conductor
In the deep, still darkness, only candles pierce the winter gloom. And then, upon the silence, comes the luminous sound of a choir in harmony. With a sequence of Christmas music old and new, and readings to make you smile and reflect, our popular Christmas concerts are a uniquely magical way to begin your festive season.
We're delighted to return to the beautiful 'round church' of St Chad's in Shrewsbury to give this annual concert with Shropshire Music Trust.
Early booking is recommended.
This concert will end at approximately 10pm.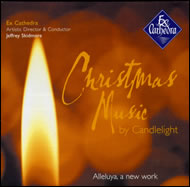 Listen to excerpts and buy copies of our Christmas CDs: Christmas Music by Candlelight and Joy in the morning
---
Tickets are on sale from 3 September 2019.