EX CATHEDRA Consort
Jeffrey Skidmore conductor
In the deep, still darkness, only candles pierce the winter gloom. And then, upon the silence, comes the luminous sound of a choir in harmony. With a sequence of Christmas music old and new, and readings to make you smile and reflect, our popular Christmas concerts are a uniquely magical way to begin your festive season.
Early booking is recommended.
This concert will end at approximately 10pm.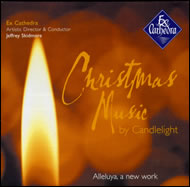 Listen to excerpts and buy copies of our Christmas CDs: Christmas Music by Candlelight and Joy in the morning
---
£30 / £25 / £15
£5 – under 18s and students
Book online or call the parish office on 0116 254 2111 (open Mon-Fri 0930-1230).
Booking is available from 10 June.