EX CATHEDRA Choir & Baroque Orchestra
Jeffrey Skidmore conductor
Bradley Smith Evangelist
Lawrence White Jesus
Marcus Farnsworth Pilate
Elizabeth Adams, Angela Hicks soprano
Martha McLorinan alto
Paul Bentley-Angell, James Robinson tenor
Bach's St John Passion tells the profound human drama of Christ's last days with utterly transfixing music. The pulsating opening chorus sets the mood, and we are drawn to share the anger of the mob, to empathize with Pilate's predicament, and to feel the anguish of the solo arias, heightened by the melancholic sounds of the period instruments – not least the tender agony of 'Es ist vollbracht' (It is finished).
We are delighted to give the traditional Good Friday performance as part of THSH's Birmingham Classical season.
This concert will end at approximately 4.15pm.
---
£43 / £39 / £30 / £23 / £12.50 including per ticket commission
£8 – aged 18-30, not in full-time education
£5 – under 18s and students in full-time education
Book online or call the THSH box office on 0121 780 3333.
Ex Cathedra is a resident ensemble at Town Hall & Symphony Hall.
Buy more & save more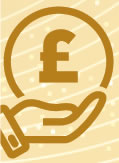 Book for 3 or more different concerts through the THSH Box Office and save up to 30%. THSH's 'per ticket commission' will also be waived, saving an additional £3 per ticket. There is a Ticket Exchange Scheme should your plans change. Read more…
This concert can also be included in a Birmingham Classical concert package; discounts may vary.