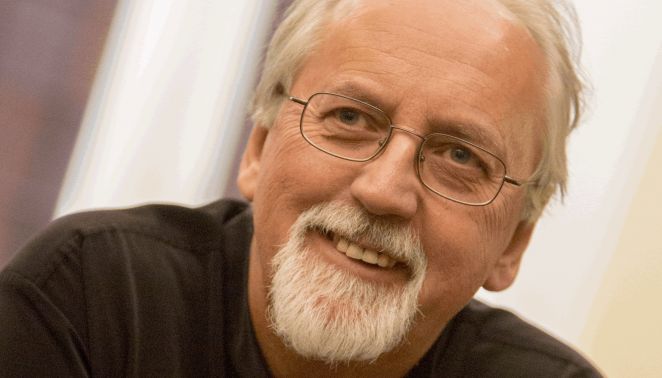 Ahead of our performance of The Sun King at Versailles at Town Hall, Birmingham, we asked our Artistic Director Jeffrey Skidmore what attracts him to the music of the French Baroque and what audiences can expect from the concert on Sunday 12 October.
Q: Ex Cathedra has performed and recorded music from the French Baroque over many years. What initially attracted you to this music and keeps drawing you back?
JS: I'm a francophile – I'm sure I have Norman blood! I have written before about my love affair with French music.  My undergraduate conducting debut was a performance of Machaut's medieval masterpiece the Messe de Nostre Dame. Ex Cathedra's first orchestral concert a few years later was Fauré's Requiem. Since these early days we have explored repertoire by Lassus, Le Jeune, Bouzignac, Charpentier and Du Mont, by Lalande, Rameau, Mondonville and Royer, by Saint-Saёns, Debussy and Ravel, and by Messiaen, Poulenc, Duruflé, Lesur, Villette, Betsy Jolas and Naji Hakim. Quite a love affair!
Much French Baroque music was and still is largely unexplored and yet it had such a great importance in the history of music.  For me to understand Baroque music I realised I had to understand French Baroque. Great composers like Purcell, Handel and Bach all came under its influence.  I was also attracted by the quality of the music and its suitability for the qualities and strengths of Ex Cathedra. And there was the stylistic challenge and the satisfaction of meeting these challenges.
Q: Can you give us a background to the pieces Ex Cathedra will perform in this concert and why you have chosen them?
JS: The four pieces are amongst Lalande's finest and the greatest of the age. Lalande was the most powerful and important composer at the palace of Versailles. He provides a crucial link between Lully and Rameau. Lalande was appointed in 1683 and was personally chosen by the king.  Over the next 32 years Lalande was given control over all aspects of the king's music. And the king was passionate about music! It accompanied him throughout the day. Lalande's fame continued long after his death in 1726 and his music was the most often performed at the famous Parisian public  concert series known as the Concert Spirituel right up to the revolution. It is difficult to explain the neglect of this great composer.
La Grande Pièce Royale was written to accompany the Souper du Roi – the king's 'public' dining, which attracted large crowds. This piece was requested often by the king – 'que le roi demandoit souvent' as one manuscript notes at the top of the score. In its six short movements it takes the listener through a range of emotions from painfully languid and exquisitely beautiful nostalgia of the opening section to the  vibrantly energetic final gigue. The piece is a microcosm of all that is wonderful  about French music.
The Te Deum, De Profundis and Cantate Domino are all 'grands motets'. These are sacred pieces in several sections with Latin words. They were hugely  popular in their day. De Profundis with its final, overwhelming Requiem section was performed at Louis XIV's funeral in the cathedral of Saint-Denis just outside Paris in 1715. Bishop Massillon famously began his sermon at this service with the statement 'only God is great'!
Q: What are the biggest challenges and rewards of performing music from the French Baroque?
JS: The style is notoriously complex with its unique ornamentation, articulation and phrasing and language. The greatest challenge for a performer is to see beyond these complexities. There is enormous satisfaction in mastering one of music's most difficult musical languages. The music is totally engaging – captivating, ravishing and sensuous.
Q: What would you say to encourage people to attend?
JS: The quality and accessibility of the music will uplift you with its richness and profundity, its elegance and seductive charm. The concert is a rare opportunity to hear this music live and Birmingham Town Hall is a perfect acoustic for it. Ex Cathedra has an international reputation for performing French Baroque music and a vast experience over many years. The current collection of performers are better suited than ever to meet the demands of this extraordinary music and we're looking forward to this concert with incredible anticipation – always a good sign!
You can purchase tickets for the concert from our website or by calling the Box office on 0121 645 0603.