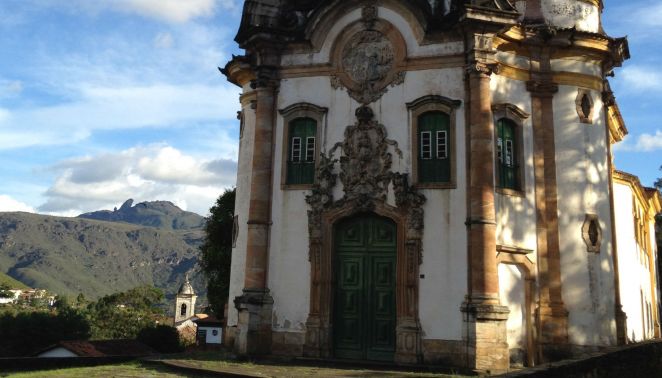 The Church Times has reviewed our Brazilian Baroque concert, which was performed at Town Hall, Birmingham on Saturday 1 March 2014. The full review, written by Roderic Dunnett, is below.
BRAZIL is the focus of sporting events this summer, but its musical tradition was firmly established by the early 20th century.
Before the ascent of opera in the mid-18th century, sacred music for the Roman Catholic Church was the prime musical preoccupation in Brazil. In his latest appearance at Birmingham Town Hall, the conductor and Baroque scholar Jeffrey Skidmore demonstrated with his articulate, expressive, and impeccably tuned ensemble, Ex Cathedra, the fruits of his new researches amid secular and sacred libraries in the former Portuguese colony, and his discussions on performing it with professors and executants on that side of the Atlantic.
The complete sacred masses and motets being unearthed or revisited over there run to many hundreds. Not all, patently, are of equal merit. But there is much to please the mind, ear, and spirit.
Brazil's cultural influences hark back, inevitably, to Portugal: the concert's opening item, by Manuel Cardoso (1566-1650), given a rewarding broad treatment, confirmed how this long-lived Portuguese composer's compositions hold up with the best Renaissance music not just on the Iberian peninsula – Morales, Victoria, Cabezón – but in Europe.
One brief treat, Francisco Gomes da Rocha's classical-style March, coincided audibly with the era of Mozart; by contrast, parts of André da Silva Gomes's Missa a oitros vozes – he was another long survivor (1754-1844) – momentarily recalled, rather as Mendelssohn often did, the full-bodied Baroque bustle of a Bach fugue.
The playing of two superlative natural trumpets (Mark Bennett and Simon Munday) brought accuracy and vivid articulation, as did some woodwind placed in the gallery at the outset. The same brass offset by bell-like descending patterns in the cellos, as Luis Alvo Pinto's (18th century) invocation "Oh! Pulchra es et decora, Filia Jerusalem" yielded to the "Domine Deus" of Pinto's own eight-part Mass, produced magical and uplifting effects.
The second part of the evening, interspersed by the riveting, almost Troubadour secular cantiga "Matais de Incéndio", yielded weightier pearls of Brazilian cathedral and church repertoire. José Maurício Nunes Garcia's Missa Pastoril had an elegant lilt and charm, and this substantial Christmas work grew in appeal as it went on, with attractive support from horns, clarinets, and bassoons.
All the vocal solos were appetising; the tenor Thomas Hobbs merits special mention for bringing an individuality nicely offset in an exquisite duet with his fellow-tenor Ashley Turnell.
Music by the leading Haydn-era composer José Lobo de Mesquita (1746-1805), a fraction predictable, even his doxology a little tame, made a stronger impact in the second half. But Garcia's interspersed Pastoral Mass provided the meat of this concert, with additional uplift in solos by the orchestra's leader, Rodolfo Richter, the leading force behind the Baroque festival held at Curitiba in southern Brazil.
To repeat, this was musically a mixed bag; but to have our attention drawn, often so rivetingly, to such a significant, deeply rooted, and unfamiliar tradition seemed a privilege indeed. More, please.