Ex Cathedra Academy of Vocal Music
Overseen by Jeffrey Skidmore OBE, Artistic Director and led by our Vocal Tutors, our Academy of Vocal Music choirs provide some of the most exciting opportunities for the region's best young singers. Our approach and enables us to get to know and enable each singer as an individual. We provide a variety of opportunities for training and performance including concerts with Ex Cathedra, such as our Shakespeare Odes project (broadcast live on the BBC) and annual Good Friday Bach Passion at Symphony Hall, performances for other partners, including Carmina Burana and The Nutcracker for Birmingham Royal Ballet, and concerts given by the choirs in their own right, which includes our annual residential weekend for the Girls and Boys Academy.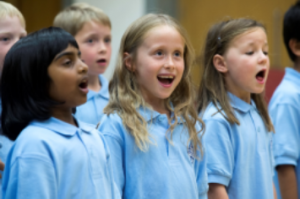 How it works:
Children's Academy (Boys and Girls): Reception to School Year 3
Junior Academy (Boys and Girls): School Years 4 – 8
Girls Academy School Years 9 – 13
Boys Academy School Years 8/9 – 13 (when the voice begins to change)
Every Wednesday the Junior Academy, Girls Academy and Boys Academy rehearse – separately, but in the same building. Once a month, on Sunday afternoons, the choirs come together at the Ruddock Hall in Edgbaston creating opportunities for the choirs to work together differently, and give informal performances to each other and to parents. Performance dates are often additional and notified at the beginning of each academic year.
The team leading the choirs, under the direction of Jeffrey Skidmore, are Rebecca Ledgard (Junior Academy and Children's Academy); Suzzie Vango (Girls Academy), Sally Spencer (Children's Academy), Rob Challinor (principal accompanist), and members of the Vocal Tutor team (Boys Academy).
---
Join!
We are always pleased to welcome new members. For more information, please contact Myriam Toumi: 0121 616 3412, myriam@excathedra.co.uk
Follow us on Facebook
---
What they say
"….The most amazing choir, a group of incredible and influential vocal tutors and musicians and lifelong friends that I have made through singing with Junior Academy and the Girls Academy. The support and experience that Ex Cathedra has given to me has been amazing and I feel so very privileged and honoured to have been part of some truly extraordinary singing projects. I feel like over the years I have not only developed my musical and singing knowledge but have also been equipped with invaluable communication, self-management and social skills. I have so many wonderful memories from amazing rehearsals, Rob's funky piano riffs, my first time in the orchestra pit at age 6, singing at ArtsFest, singing in Carmina all those years back in Symphony Hall and attending annual Carols by Candlelight – a tradition that I know my family and friends will keep for a long time! So…! I just want to say a massive thank you to everyone who has made my Ex Cathedra experience such a valuable and treasured experience."  Martha Davis, member for ten years
"The Shakespeare Odes concert at Southwell Cathedral was the best day of my life!" Kirsty Fernie, Junior Academy member
We would like to thank all of the funders of the Academy of Vocal Music.